Cafe behind the blue facade - Auction Rooms | Feature Article
North Melbourne, VIC, Australia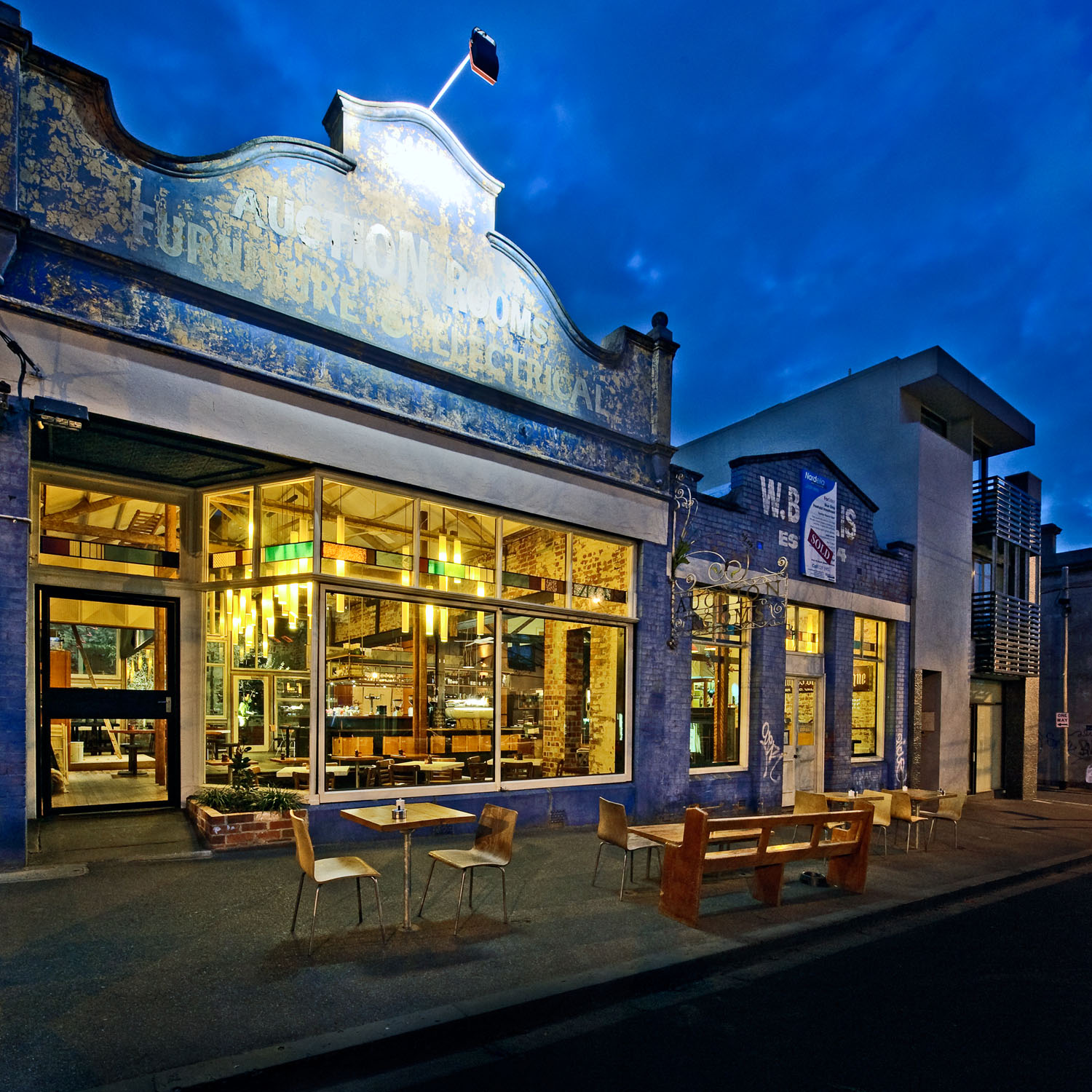 One of Melbourne's leading architectural practices, Six Degrees Architects have reinvigorated another sustainable hospitality design that is commercially smart, functional and aesthetic. The weather-beaten blue facade of the old W.B. Ellis building situated on Errol Street is the entry to North Melbourne's Auction Rooms. It's a café, restaurant and in-house coffee roastery, housed within the lofty interiors. The architect's decision to keep the original facade pays tribute to the iconic site, retaining some of its charm and history.
Central to the success of Auction Rooms is their interpretation of local produce and excellent coffee. The menu fuses Colombian corn pancakes, braised Wagyu meatball sub roll and Brulee French toast. And on the other hand, the use of materials, their resilience and longevity attributes that extenuate unity, scale and line create a relaxed and unpretentious space. With rich timber top counters, distressed brick and high ceilings, the space has the flavour of an industrial warehouse that Melbournians easily fall in love with. Restrained yet full of character, it provides a lively and relaxed backdrop to the realm of belly warming food.
The interiors are celebrated through the use of salvaged and reused materials. It's what Six Degrees Architects are known for in their work. Constantly addressing human needs through the built form is what made them a specialist in creating high use places. Playing with perceptions of old and new, reviving retired elements and adding new ones just like they did at Royal Saxton Hotel in Richmond and Newmarket Hotel in St. Kilda.
Auction Rooms uses its ceiling brilliantly – trusses and beams form an architectural composition, that divides the building into different seating pockets and amplifies the overall height of the building. The bareness and rawness of the design is softened with clusters of suspended white tube lighting, contrasting against red brick walls.
The internal courtyard and variety of intimate spaces ensure the open and urban vibe is felt throughout. The large glass wall between the courtyard frames the view into the cafe flooding it with natural light. The dominance of brickwork gives the space a structure and feeling of tactility in combination with timber and concrete floor in different seating sections.
The central coffee bar is the intersection to a unified design. The bold counter finish painted in black with timber panels is the pathway to connecting customers to the rear courtyard and the front section with prime street presence. Since 2013 when it was named Melbourne's best cafe in the Age Good Cafe Guide, Auction Rooms remains at the forefront of cafe culture.