Open Studios | Feature Article
Canberra, ACT, Australia
Step into a designer's studio, and you enter the space where inspiration and practicality meet. Once the work leaves the studio, a place  where creativity is nurtured and made tangible is not necessarily considered. Yet for the designers and makers, the studio is integral to the work; at once a space of contemplation, creativity and inspiration, and of experimentation, collaboration, design development, craft and construction.
Over three weeks in November, designers and makers across Canberra will participate in the Open Studios for the DESIGN Canberra festival, throwing open their doors for the public to gain an insight into how the studio space influences the creative process. For three designers participating in the Open Studios who are all working out of the Australian National Capital Artists Studios (ANCA) in Canberra, both the studio space and the community of makers working side by side has a deep effect on their work.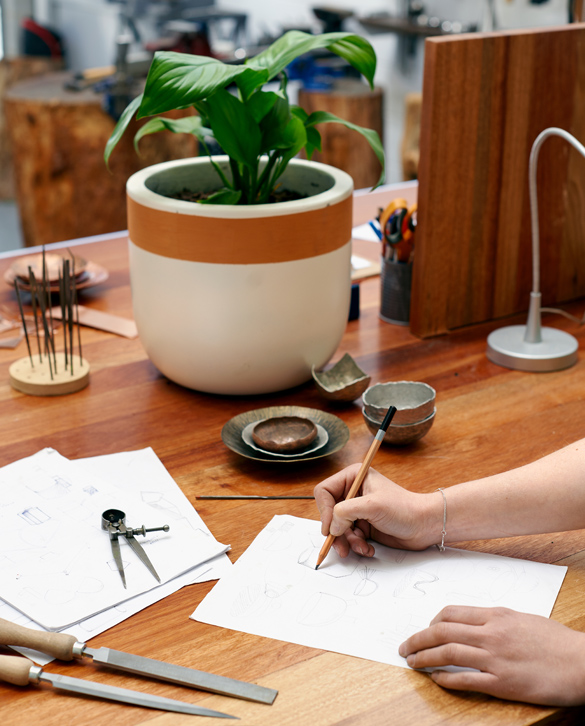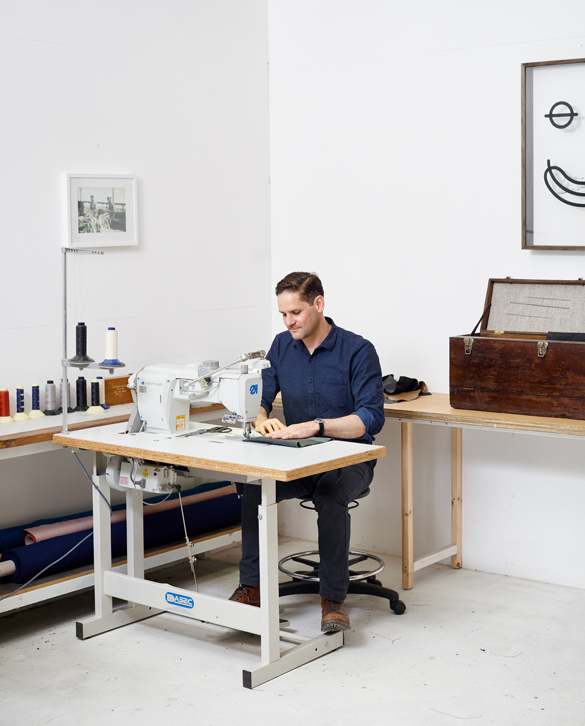 Silversmith Alison Jackson recently moved from her studio of 9 years in an industrial estate to the purpose-built space at ANCA. For someone who spends more time in the studio than in her home, the move has given her a light-filled, tranquil space to work.
"My old studio was on a noisy road with trucks passing and had no natural light, apart from the roller door. The new studio looks inward onto a shared green space, and it's beautiful place to come every day". For Jackson, 'creativity is definitely influenced by what's around you', so having a studio space like this to work is fuel for her creative process. Jackson collaborates with her partner, sculptor Dan Lorrimer, and the new studio is much closer making collaborative work much easier.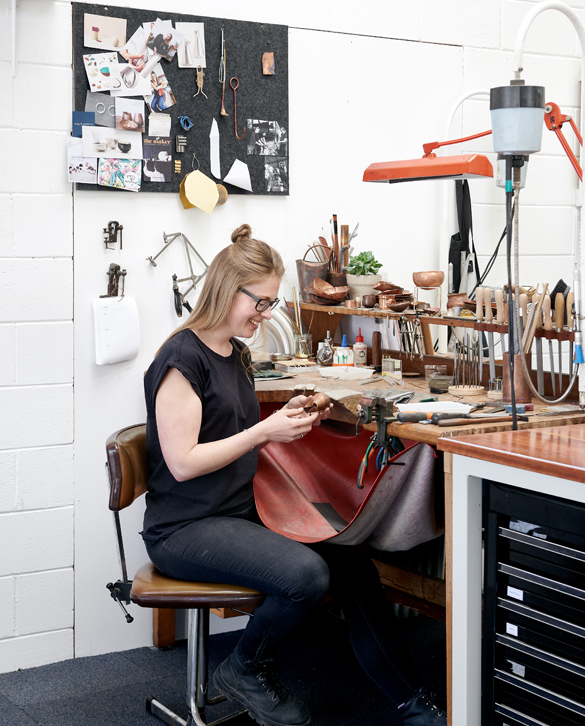 The influence of community and collaboration is key for fellow ANCA Studio designer Geordie Ferguson of Stellen Workshop, who is a member alongside the others of Craft ACT: Craft + Design Centre, which supports a diverse artistic community with artists and designers ranging from sculpture, upholstery, metal, leather and woodwork. For Ferguson, the influence of the studio is more in the other designers working alongside than it is in the space itself, although he echoes Alison Jackson's appreciation of the space and light.
Ferguson is an upholsterer by trade and with his business Stellen Workshop, he specialises in bespoke stitched goods, working with a wide range of textiles, from furniture upholstery to leatherwork, including bags and even shoes. Ferguson is also involved in prototyping and product design, recently creating a range of low-impact boxing gloves and protective vests for combat sports in collaboration with the University of Canberra and the Australian Institute of Sport. With such a diverse range of work, the close proximity to other artists, designers and makers is a key part of the studio for Ferguson. 'It's motivating being with other creators', he says.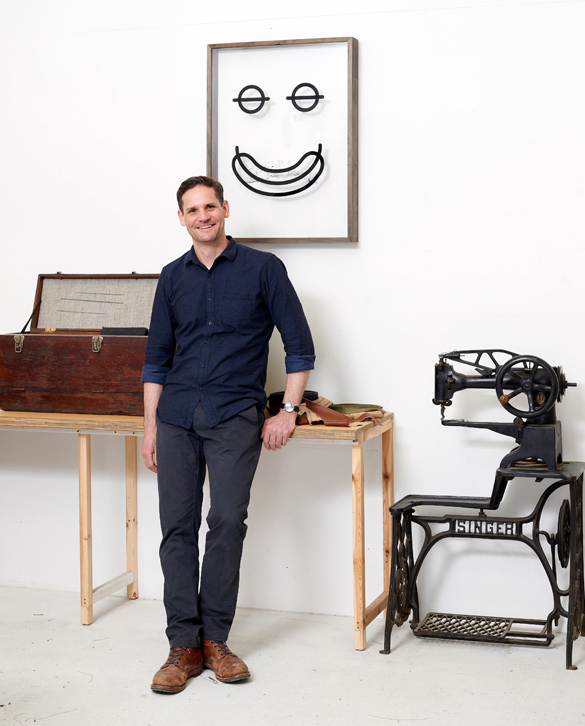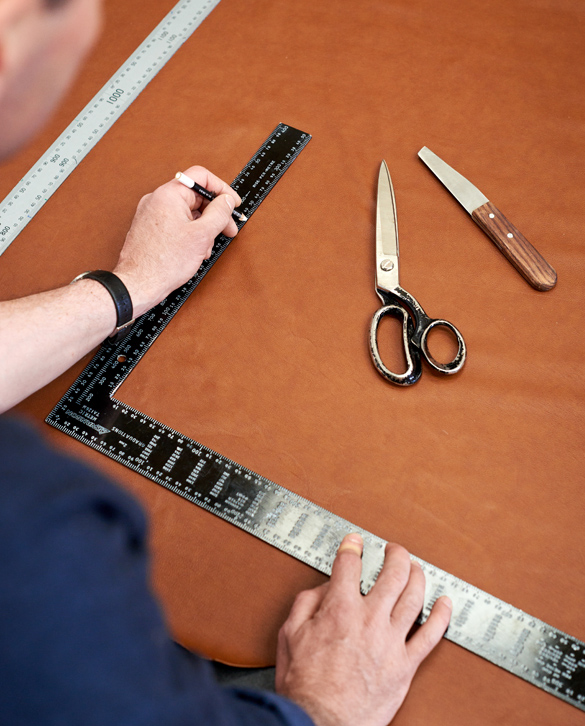 For furniture, lighting and product designer Tom Skeehan of Skeehan Studios, having a  studio means that the concept design process and the prototype development and making process can all happen in the same place. For Skeehan, the space is a 'huge influence'. 'I love having a purpose built space that is set up as an environment to support and encourage design' he says, 'it allows the team to be as productive as possible; without the studio, the business simply couldn't operate'.
Skeehan Studio places a focus on the journey of product development, from the sketch design to material research and prototyping. Each phase of the process has assigned space, with walls for pinning projects and mind maps to present to clients or the team in the studio, and space for materials to be tested and worked on.
Materials play a fundamental role in the creative process, and having a workshop space allows for experimentation. 'We're always exploring and playing with the potential of materials, testing the tactile response' says Skeehan. Having the materials in the space provides inspiration, and on a practical level means the team in the studio can 'test the materials' response to being shaped, or burnt, or covered in glue'.
An industrial designer experimenting with materials or prototyping a new armchair design, a silversmith making delicate jewellery and tableware, or an upholsterer collaborating on furniture, leatherwork or high-performance combat sports equipment -these studio spaces could no be home to more different work. For them all, however, the studio is a unique space where design, creativity, craft and collaboration combine to create something new and wonderful.
Open Studios is one of the most engaging and participatory programs presented as part of the DESIGN Canberra Festival. Bringing together over 30 different designers and makers in a range of disciplines to allow visitors to experience an otherwise unseen glimpse into their design process.