Concrete Nation
Cube Concrete Basin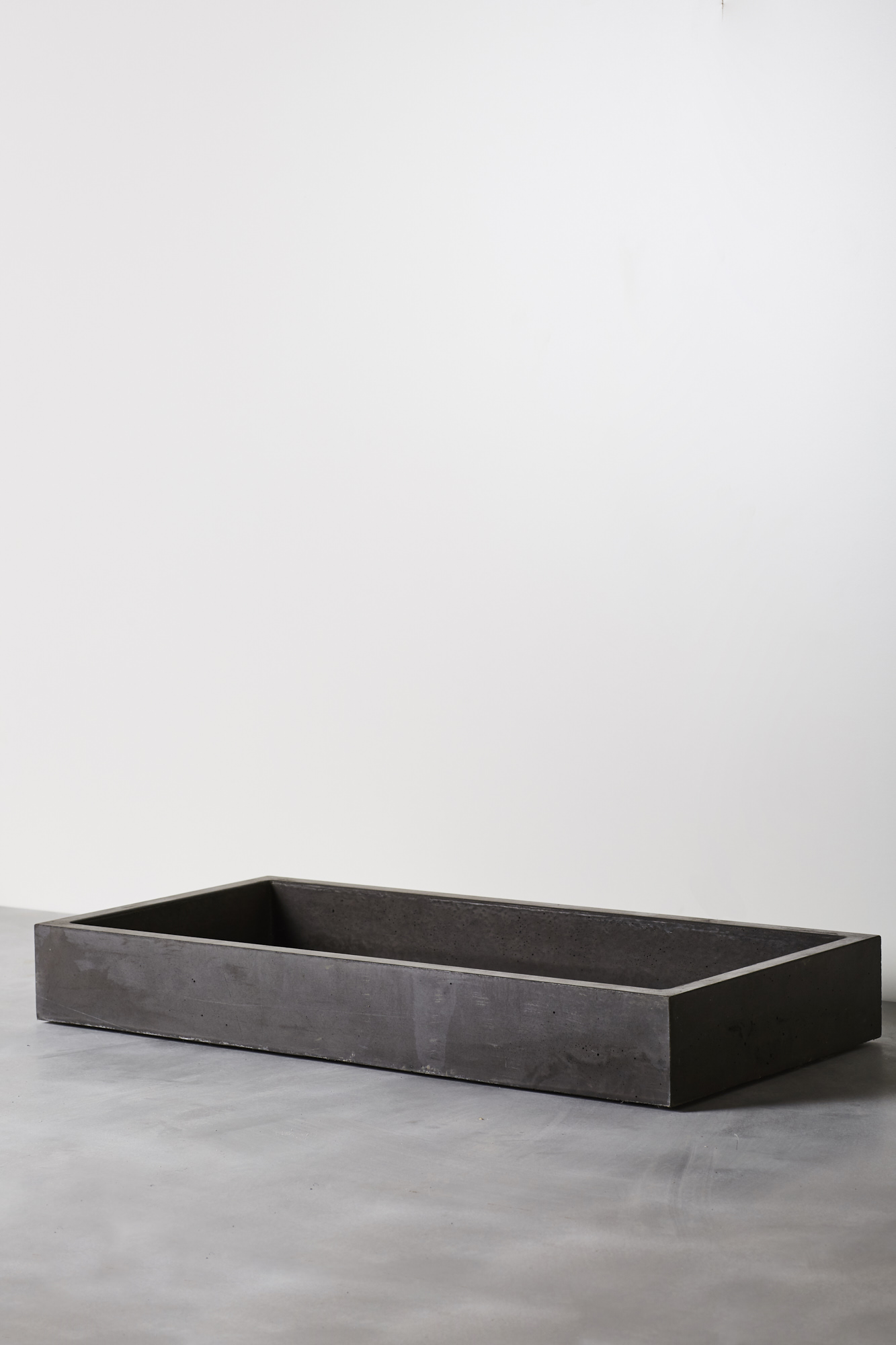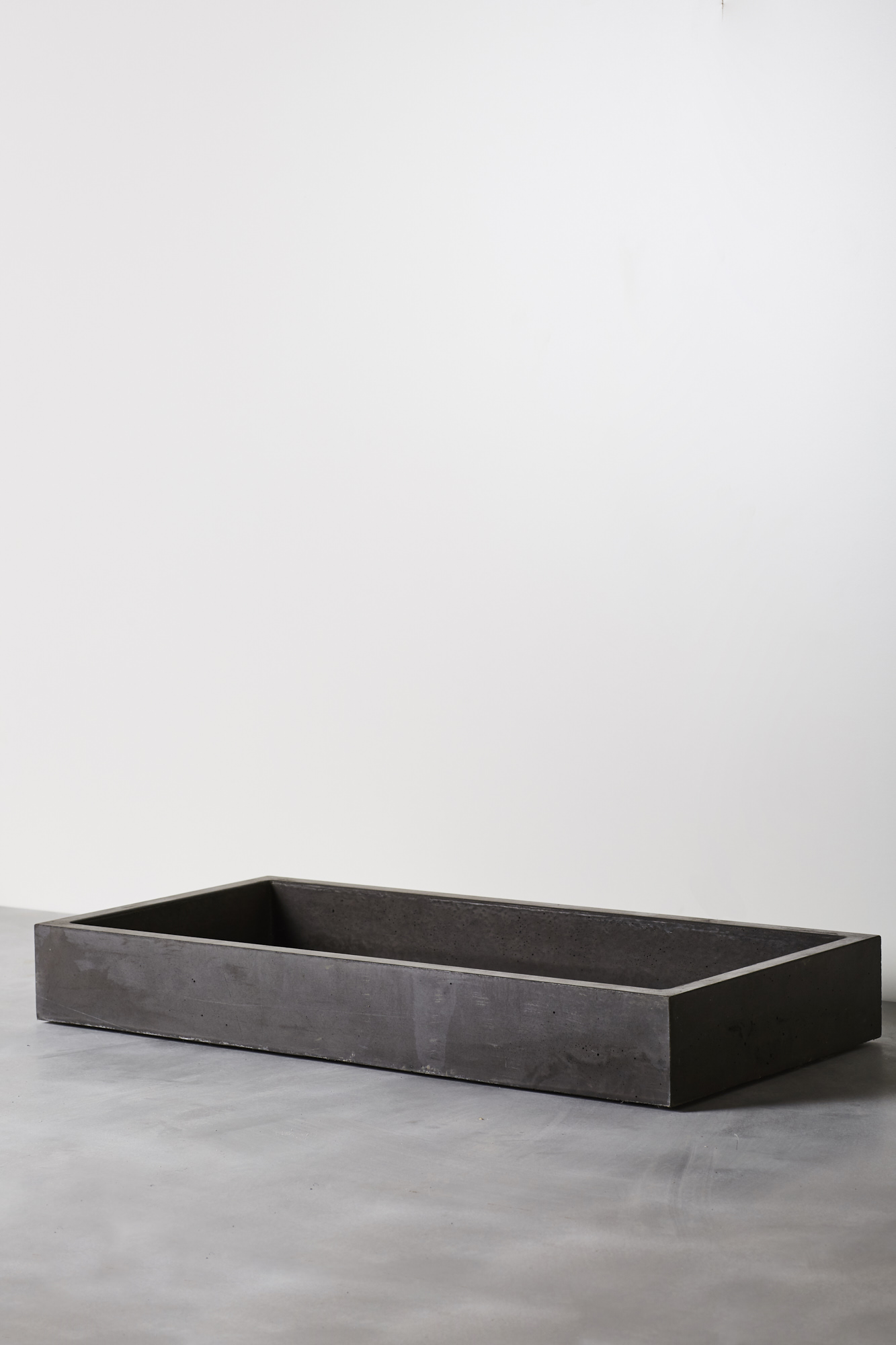 $940.00
The Cube Basin is a delightfully handcrafted bespoke piece designed and manufactured in Australia by Concrete Nation. When one thinks of concrete they usually don't think of stylish sophistication – the Cube Basin proves these perceptions wrong. Coming in a variety of colour finishes the Cube Basin adds an element of contemporary class to any bathroom space. Find out why Concrete Nation products are being increasingly specified by Australia's top architects and interior designers.
General Information & Specifications of this Handmade Concrete Basin
Designed locally by Jason and Kate Lett of Concrete Nation
Proudly manufactured on Australia's Gold Coast by Concrete Nation
Handmade
The bespoke concrete product is environmentally sustainable
Without overflow
Fits 32mm waste
The Cube Basin by Concrete Nation comes in variety of colour finishes
Additional sizes available
Cube Basin Dimensions
Length 840 x Width 390 x Height 120
Weight of this Handcrafted Concrete Basin
The Local Designer – Kate & Jason Lett of Concrete Nation
Concrete Nation is a dedicated collective of artisans, craftspeople and innovators who create custom-crafted, bespoke, architectural concrete works of art.
Based at Burleigh Heads on Queensland's Gold Coast, their highly skilled team specialise in creating polished concrete benchtops, vanities, basins, bathtubs, outdoor barbecue benchtops and industrial furniture for residential and commercial properties.
Thought-leaders and influencers in their field, the studio is eternally pushing boundaries and staying ahead of industry trends while forever seeking to perfect their craft.
Local Designer Profile – The Local Project
See Concrete Nation's 'The Local Project Profile' and view Jason & Kate Lett's extensive catalogue of Queensland design and hand crafted products that are available for purchase on The Local Marketplace.
Lead Time of the Stylish Modern Concrete Bathroom Basin
The Cube Basin by Concrete Nation is only available on request please contact us through marketplace@thelocalproject.com.au to make a purchase.
Shipping and delivery of this product is calculated at the check-out of The Local Project's Marketplace.
Shipping and Delivery of the Locally Designed and Handmade Product
When checking out, please advise if lifts, loading docks or specific access is required for delivery.
Delivery of the Cube Basin is between normal business hours of 9AM to 5PM Monday to Friday.
To enquire about specific delivery pricing of this product, please contact The Local Project team through to marketplace@thelocalproject.com.au
Lead times are as stated, any variation on the stated lead times will be advised as soon as possible by The Local Project.
Shipping Local Availability of the Cube Basin by Concrete Nation
Shipping of the sustainably sourced basin can be delivered nation wide, including:
Victoria – Melbourne, Kensington, Flemington, Docklands, etc.
New South Wales – NSW
Queensland – QLD
South Australia – SA
ACT – ACT
Northern Territory – NT
Tasmania – TAS
Western Australia – WA
Local pick up can also be arranged from Concrete Nation's Burleigh Heads workshop – please get in touch with us at marketplace@thelocalproject.com.au if you would like to arrange local pick up of your product.
International Shipping of Concrete Nation Bathroom and Kitchen Products
International shipping of the Cube Basin by Concrete Nation is available upon request. Please contact The Local Project team at marketplace@thelocalproject.com.au for a quote.
Customisation for this Gold Coast Designed Bathroom Basin
Customisation options for this product include:
The Cube Basin by Concrete Nation comes in the following colour finishes:
Dusty pink
Snow White
Grey Mist
French Grey
Light Charcoal
Dark Charcoal
Black
Mango
Mint
Red Iron
Cocoa
Nude
Deep Ocean
Green Stone
Soft Gold
Colours can be viewed on the colour chart in the image gallery.
Additional sizes are also available on request:
For general information about customisation of this product, please contact The Local Project at marketplace@thelocalproject.com.au
The Local Project Marketplace was born out of a desire to support, showcase and champion local Australian Design through a sustained emphasis on sustainable production, quality materials, innovative design and local manufacturing.
Our pioneering Marketplace aims to give Australian designers and makers a cutting edge platform to showcase their portfolio and sell directly via our channels.
We seek to champion the best from local industry leaders and emerging artisans alike and are committed to supporting and emphasising sustainable production and quality materials, as well as innovative design and local manufacturing. Our passion lies in creating inspiring, original and highly shareable content and, we are dedicated to helping grow and promote the Australian design industry on a global stage. We will now extend our platform further by offering a destination shopping experience – with unprecedented access to local designers and makers.
Should you have a project requiring a quantity order of one or many types of Concrete Nation pieces, The Local Project team can work with you to secure the best possible pricing that can be offered across the board.
Warranty
Concrete Nation warrant their concrete products for a period of two years from the original date of purchase.
They warrant that the product will be free from manufacturing defects provided the product is installed and/or fabricated by a certified Concrete Nation fabricator/installer.
Refunds
Concrete Nation is not responsible for labour or installation charges, removal and/or disposal charges of existing products or any other expenses associated with a defective product.
Concrete Nation's sole responsibility is replacement, exchange, or repair of a defective product.