Kingsville Residence | Richard King Design
Kingsville, VIC, Australia
The Kingsville Residence by Richard King Design was a complete re-model of an existing house that took the firm close to two years to complete which gives you an idea of the complexity of the project.
The house was initially an aging federation cottage that was extensively demolished and extended into a two-level, contemporary house growing in size from 85m² to 185m².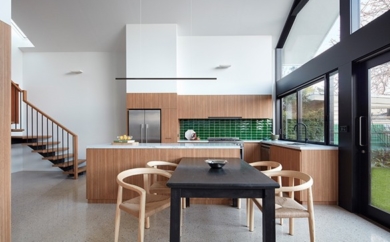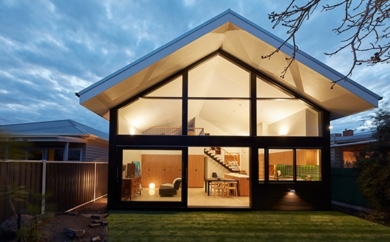 The existing gable-end roof line was extended through to the rear, to reference the buildings original architectural character. Richard King Design then utilised the generous roof height and proportions to add in a Mezzanine level and double-height space, at the rear of the property.
The house has a mix of private, social and work spaces. The front portion of the house is retained as Bedroom and "adult" Living space.
A central spine corridor connects the old part of the house to the contemporary extension. Additional bedrooms, bathroom, Entrance/Laundry lead onto a double height, open-plan Kitchen, Dining and "Social" Living room at the rear.
A feature staircase connects to a large Mezzanine Study and en-suite. This project was tailored to fit the specific requirements of it's owner. It also follows passive-house design principles.