Project Feature


The Holly Penthouse: Family Home Meets Luxury Penthouse Apartment Living
Melbourne, VIC, Australia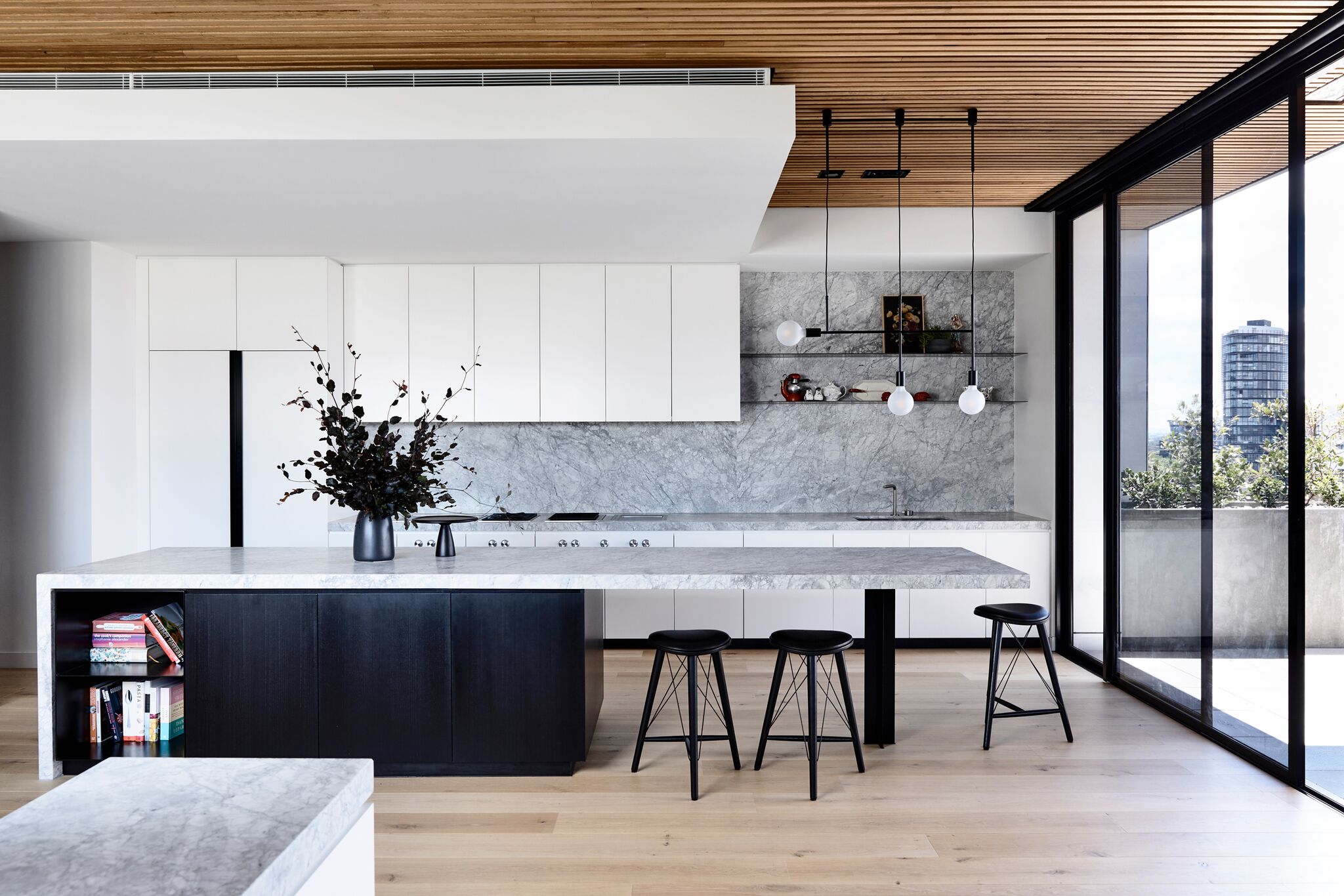 The Holly Penthouse by Tom Robertson Architects is a 'home in the sky' for a family of four, taking in expansive views from its elevated position on St Kilda Hill.
Drawing on a timeless palette of natural materials, the Holly Penthouse effortlessly balances elegance, luxury and sophistication with an inviting atmosphere of warmth and comfort. Through the design's emphasis on materiality and considered spatial zoning, combined with a playful selection of furniture, art and objects by Simone Haag and Bec van der Sluys, the project distills the best of both penthouse apartment living and a family home.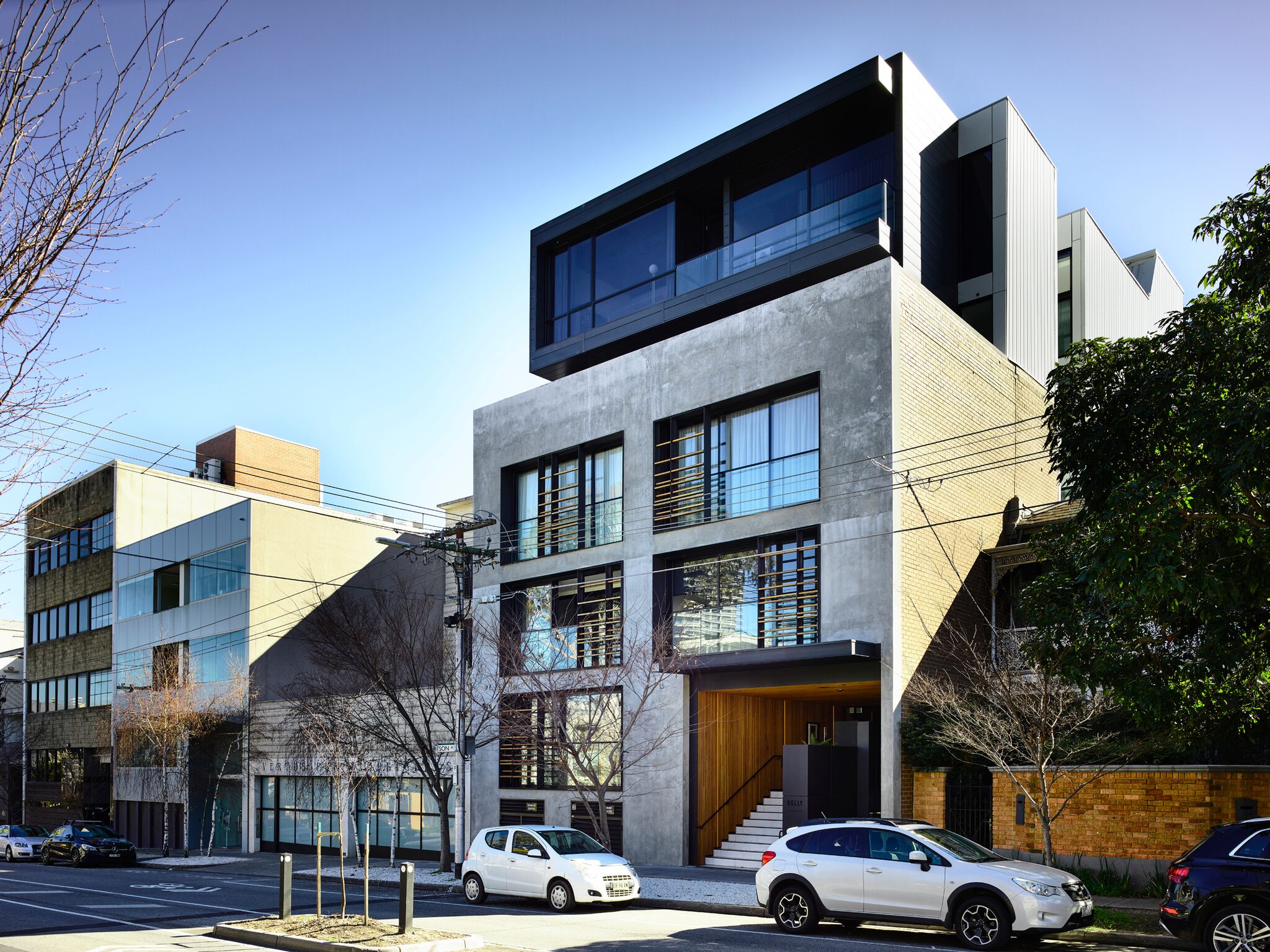 The Holly Penthouse is divided into public and private areas, with living and entertaining areas located to the north, while the southern end is devoted to the master retreat, spare bedroom the children's quadrant. 'The configuration of the zoning was important', explains Tom Robertson. 'The separation of public and private spaces allows it to feel more like a family home than a regular apartment'.
Materials are used to further delineate zones. A blackbutt timber batten ceiling with integrated services defines the main living area and is carried forth onto the external terrace eaves. By extending the material outside through the full-height glass walls the line between indoor and outdoor is blurred, creating an expansive sense of space. The timber imparts a sense of warmth and is contrasted with feature plasterboard bulkheads which visually trace the kitchen and dining spaces.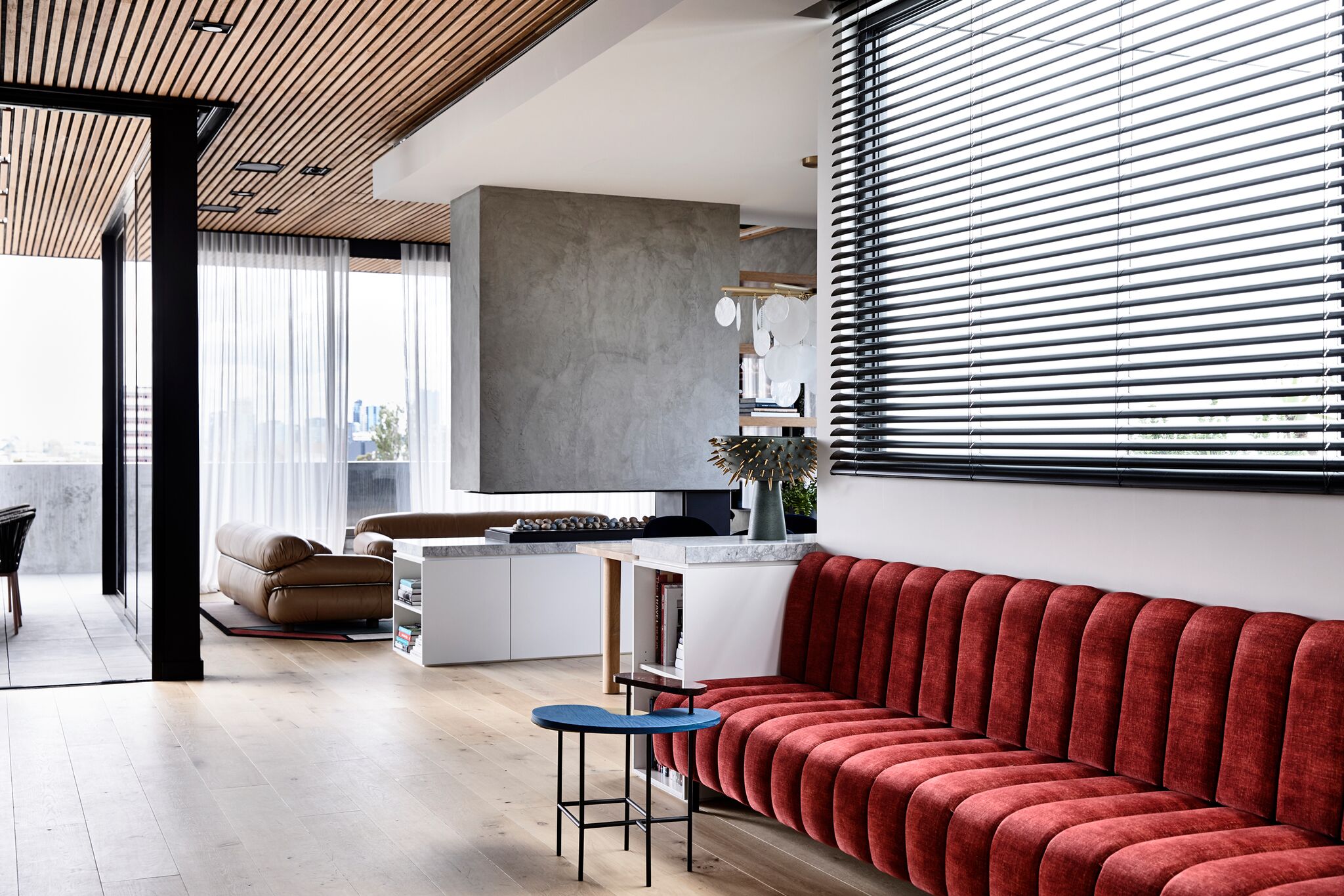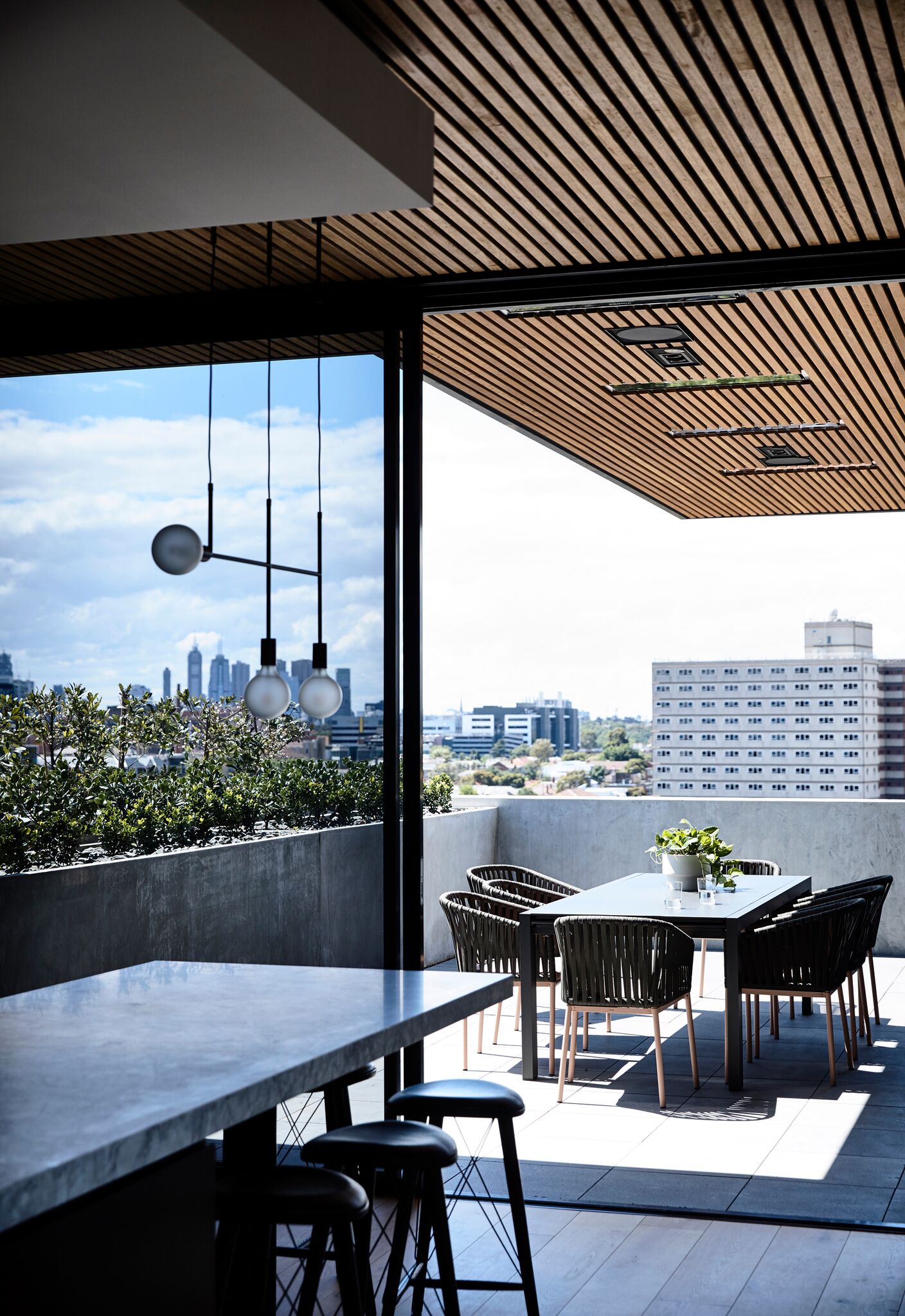 A splash of grey cement render on the eastern wall and feature fireplace, meanwhile, links the lounge and dining areas, even as they are separated by the presence of the fireplace and integrated oak shelving. Similarly, the bathrooms are differentiated as public or private via their materials. The family bathroom is characterised by an understated palette of grey, white and blonde timber, whereas the powder room is dramatic with a dark grey terrazzo paired with an intricate geometric wallpaper in tones of blue and yellow ('a dinner-party conversation starter', says Tom).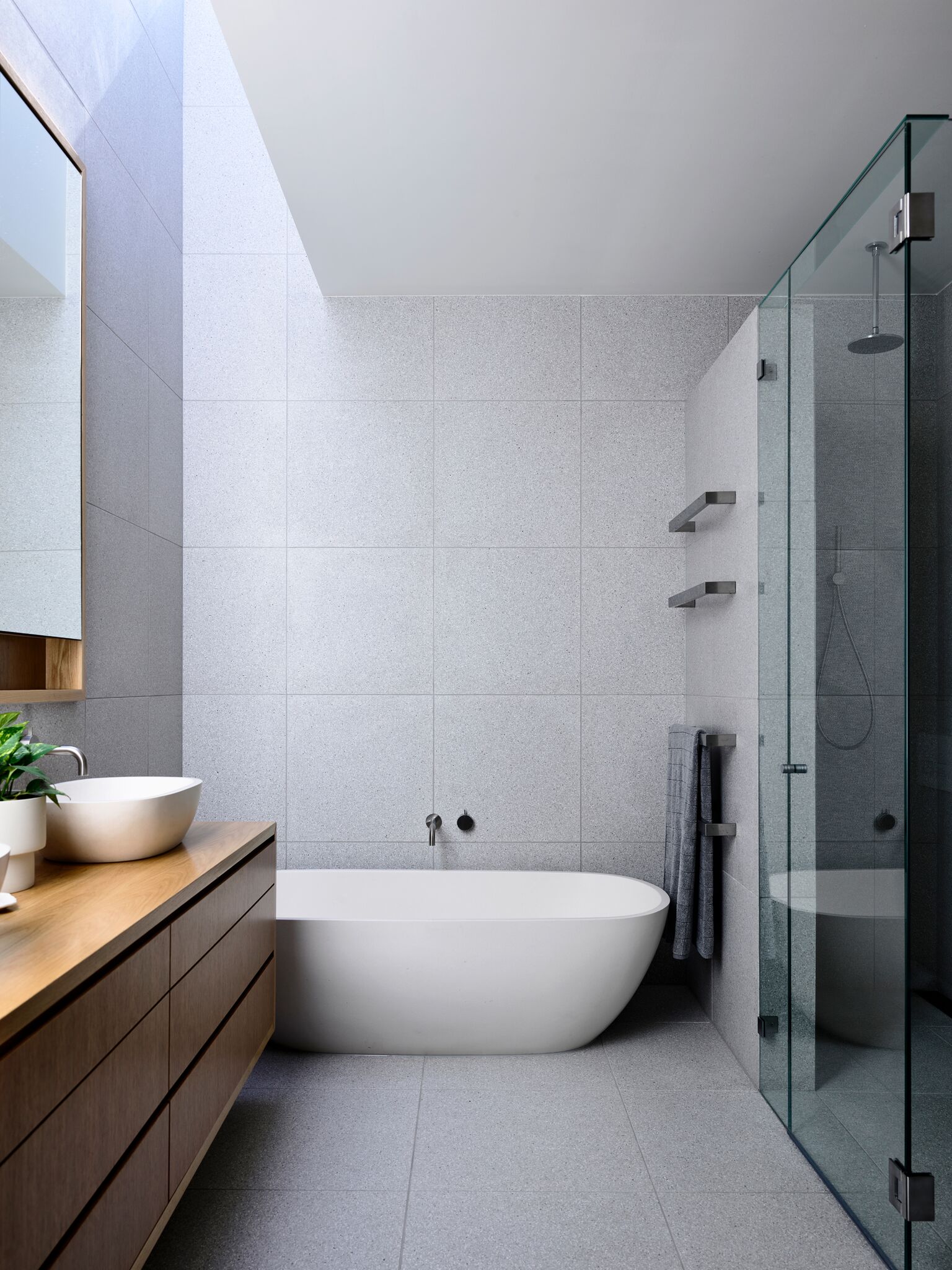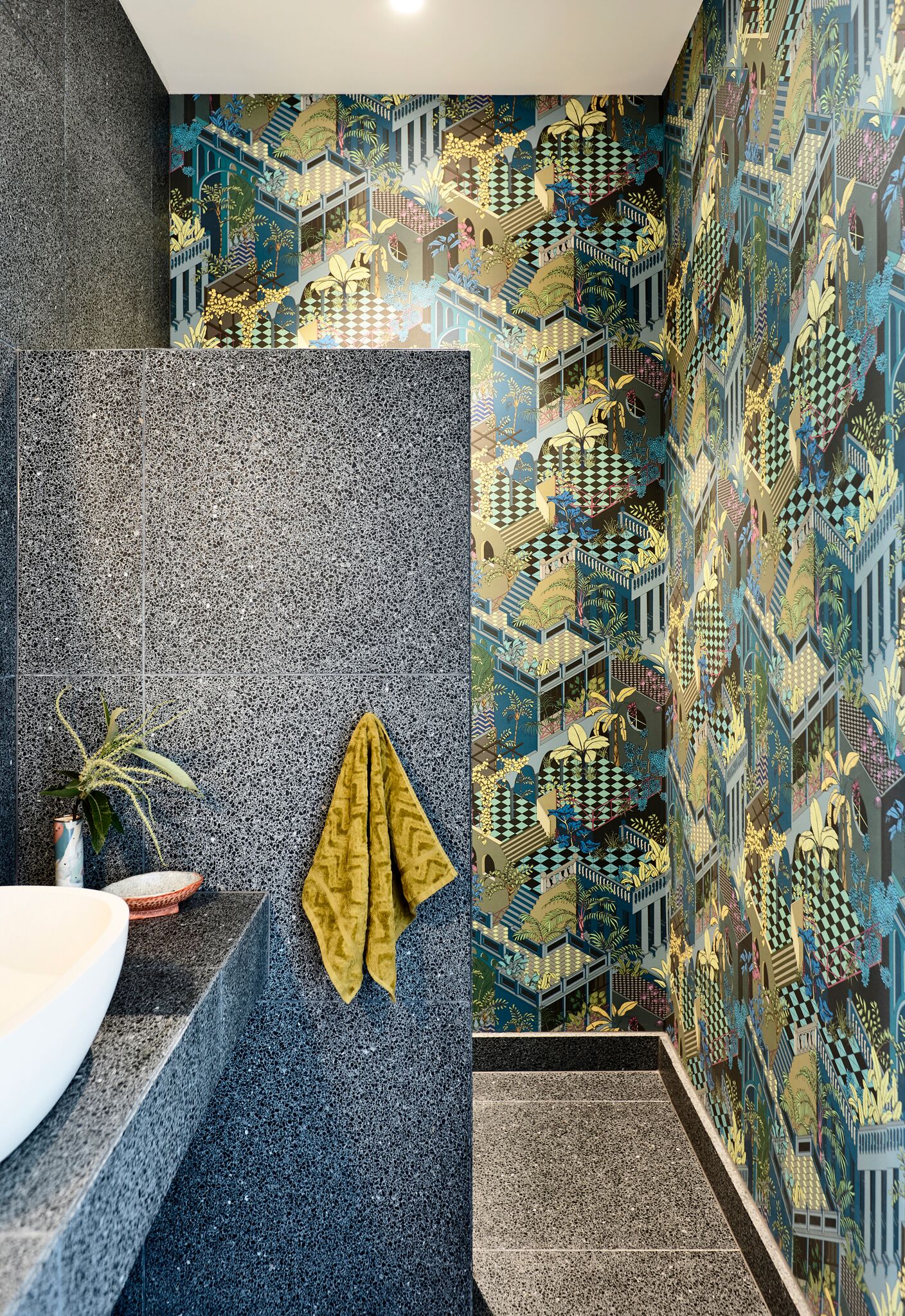 While this is by no means an ordinary apartment (or even penthouse), the impressive views make it impossible to mistake it for a detached family home either. Through floor-to-ceiling glass the views take in the CBD, the bay, and the Dandenongs blue in the distance. The terrace is also no quarter-acre backyard, but also no standard miniscule apartment balcony. With a dumb-waiter, cooking and entertaining area as well as an outdoor shower, the terrace is the ultimate combination of spacious family courtyard and urban outdoor living.
It is a testament to the skills of Tom Robertson Architects and the unified vision of architects, developer, client and stylist that the project makes a stylish, character-filled apartment family home seem so effortless and entirely natural. From the understated luxury of the materials to the magnificent views and practical zoned spaces, the Holly Penthouse is an apartment any family would be happy to call home.